Solutions
Hot Product
Contact Us
Mineral Processing Test




1.
What is mineral processing?
Mineral processing is a process that valuable constituents of an ore are concentrated by means of a physical separation process. As one of the initial steps of extractive metallurgy, the main purpose is to prepare the ore prior to downstream purification processes. The most common mineral processing processes include: sample preparation, Comminution,classification and concentration.


2.
T
he lab of HOT's partner helps you do the test
As you know, HOT Mining provides 'one-stop' solution for mining and mineral processing. While we provide mineral processing project design and supply related equipment, the lab owned by our partner helps us do mineral processing test, and we can assure it is much more price-competitive. 'Mineral Processing Test Report' is important basis of next project design, and it brings significance of guiding actual production.
This lab provides a wide range of ore beneficiation research services for the mining industry. The laboratory facility includes a wide range of equipment necessary to research, develop and test various beneficiation methods with capabilities including:
● Sample Preparation – drying, dewatering, and mixing of samples.
● Comminution – rock size reduction by crushing and grinding.
● Classification – screening, de-sliming, cycloning.
● Gravity Concentration – separation exploiting the differences in specific gravity of minerals via the us of centrifuga concentrators, shaking tables, and spirals.
● Froth Flotation – bulk flotation, differential flotation, etc.
● Magnetic separation.
● Optical Sorting – using advanced optical sorting technology
● Dense media separation - bench scale heavy liquid testing and pilot testing available.
● Hydrometallurgy - column leaching, bottle roll testing, electrowinning, ion exchange, and more.
● Scrubber testing - pilot plant tests of scrubbers used to deagglomerate clays and other materials.




3.
Test process
After we got the representative samples we need, the lab will analyze the material components (ore structure, mineral and types of ore) and chemical properties (elements, the particle size screening, density, ore relative grindability) of crude ore, and gets some data for the subsequent beneficiation test.
After the working of chemical analysis, the lab takes the mineral beneficiation test which tests the optimum conditions of dressing process. Testers take the exploratory testing at first relying on rich experience, and then the detailed testing including grinding fitness, reagent dosage, open and closed circuit test, etc. After obtaining the final products,testers should analyze them to get the recovery rate, and then takes sedimentation test of concentrate and tailings as references of equipment selection.
After finishing all the tests, the lab writes a detailed 'Mineral Processing Test Report' by summarizing the test process. In the last part of test report, the optimum technological process and technological parameters are presented.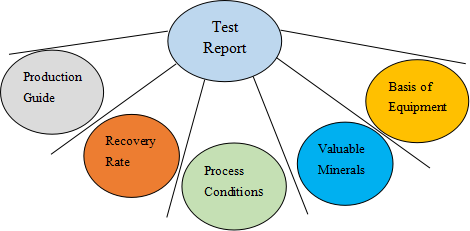 FOR MORE INFORMATION ABOUT HOW WE CAN HELP TEST YOUR ORE, DESIGN ORE PROCESSING PLANT, CONTACT US:
Contact us:

| | | | |
| --- | --- | --- | --- |
| | Serena Fu | Kira Zhang | Teresa zheng |
| E-mail | serena.fu@hot-mining.com | kira.zhang@hot-mining.com | teresa.zheng@hot-mining.com |
| Skype | Serena20140924 | kira.zhangjing | Teresa.zheng123 |